Dental Implant Restoration

Washington, DC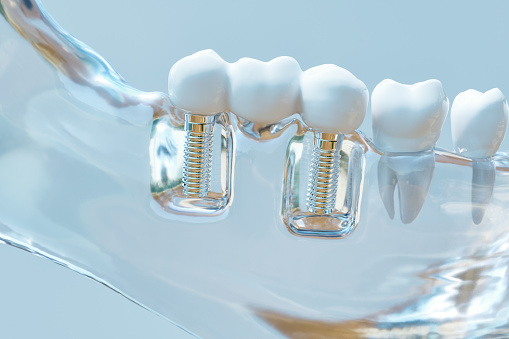 Having a missing tooth can affect your life since it can influence your self-confidence and self-esteem levels. Having one or more missing teeth does not mean you will live like that for the rest of your life. Dental implant restoration is one of the most popular methods we offer here at Capital Dental Center.


Dental implants refer to surgical root devices used in place of the natural missing tooth root. The implants are anchored in the jawbone below the gums. They will permanently fuse with the jawbone over time, usually a period of several months. A dental crown will later be mounted on the top restoring your natural and long-lasting smile.

Dental implants are very popular since they can last a lifetime and completely restore all of the functions of your natural tooth while preventing bone atrophy in the jawbone. Dental implants can help replace single or multiple missing teeth.


The two main materials used in making dental implants are titanium and zirconia. Titanium is much more popular when compared to zirconia as it does not have any side effects and integrates well with the jawbone. These dental implant materials are resistant to corrosion and have a proper composition and microstructure. The materials are sturdy and strong, making them resistant to fracturing.


Dental Implant Restoration Process

Our dentist will perform an extensive dental checkup on the first appointment to understand your condition. They will check the gums and jawbone to ensure they are in good condition to sustain a dental implant restoration procedure. The patient's bite impressions will be taken to help produce restoration. The bite impressions will help ensure the restoration fits well with the rest of the teeth.

After the implant has been inserted and given time to heal, the permanent restoration will be attached via the abutment. Some of the common restorations used are the crown, bridge, and denture.


How Long Will it Take for a Complete Dental Implant Restoration?

There is no exact healing period when it comes to the dental implant restoration. Every patient has his or her own time frame. Some patients heal quickly and will be ready to have their restoration within a few months. Others will require up to six months for complete healing.


Is the Dental Implant Restoration Procedure Painful?

Patients will experience minimal pain when undergoing dental implant restoration. Our dentists will use local anesthesia to help numb the area, making the entire procedure pain-free. We will also prescribe medication to help relieve pain after completing the restoration procedure.

At Capital Dental Center we offer a wide range of dental restoration services, including dental bridges, dentures, and crowns. We do recommend the use of dental crowns on worn down, cracked, or badly broken teeth. To learn more about dental implant restoration or schedule a consultation, call us at 202-978-8778 today!