Bridges vs Implants

Washington, DC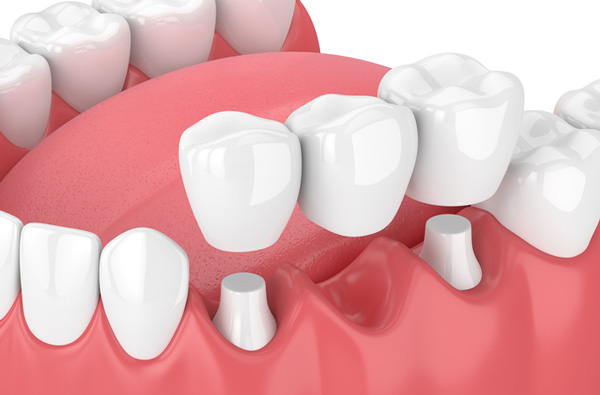 Bridges are when a lost tooth or a few missing teeth are visible as gaps between the teeth. This is more evident with the front teeth. Many people suffer from tooth loss due to a variety of reasons, ranging from improper hygiene to trauma. A lost tooth or even a few missing teeth can be replaced using a fixed replacement method, such as dental bridges. Compared to dental implants, this is a convenient and less expensive method of tooth replacement. The type of dental bridges applied by our dental clinic depends on the unique requirements of each patient. Before choosing which type is best for you, Capital Dental Center will check the issue you are addressing before the restoration process begins. Your comfort and convenience are always considered.

Many people give importance to their smile and when they have a missing tooth that ruins their smile, they go in for a replacement. But, this kind of misconception is not right because every tooth in the arch is equally important. Any tooth that is missing should be replaced, otherwise the integrity of the other teeth will be hampered as well. This could cause the other teeth to move in the long run, causing them to be prematurely lost. A dental bridge is a good option for replacing missing teeth. Dental bridges are fixed replacements, making them far easier to handle than removable ones.


Dental Bridge Procedure

If you have healthy teeth on each side of a missing tooth, our dental practitioner will file down the two healthy teeth to prepare them for a bridge. If you don't have healthy or enough teeth to support a bridge, then dental implants may be surgically placed. A dental implant is an artificial root made of titanium metal inserted into the jawbone to replace the root of the natural tooth. The implant acts as an anchor to hold an artificial tooth or bridge in place. Next, our dental practitioner will make a model of your teeth by taking impressions, otherwise known as molds. Then, the model is used to make custom artificial teeth and two crowns as one piece. This piece is called a bridge. In the meantime, we will place a temporary bridge in your mouth to protect the exposed teeth and gums.

During your second visit, we will remove the temporary bridge and place the custom-made bridge in your mouth. Then, the crowns are either cemented to your two healthy teeth or attached to your dental implants, on each side of the missing tooth.


How Long Do Dental Bridges Last?

There are different types of dental bridges. You need to look after dental bridges with the same level of care and attention as your natural teeth. Ensure you maintain a good oral hygiene program, a good diet, and attend regular dental checkups. A high-quality dental bridge can last 10-15 years or longer.

Any missing teeth should be replaced. Dental bridges are one of the best tooth replacement methods, whether it is to replace your missing smile or improve your chewing abilities. To find out how you can benefit from dental bridges, please call or text our team, Capital Dental Center at 202-978-8778 today.