Types of Dental Implants

dentist downtown Washington, DC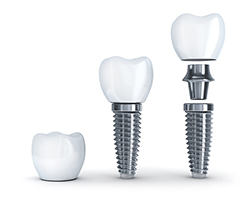 Dental implants are a popular solution for restoring missing teeth and improving oral health. They are artificial tooth roots that are surgically implanted into the jawbone, providing a stable and long-lasting foundation for replacement teeth. There are various dental implant materials, each with its own advantages and disadvantages. Understanding the different types of dental implants available can help you make an informed decision about which type is best for your individual needs.

Want to get dental implants? Put your trust in Kiarash Saba DMD and Bahareh Rad MD at Capital Dental Center who have included dental implants in their practice for quite some time and consider it to be a good option for tooth loss.


Endosteal Implants

Endosteal implants are the most common type of dental implant placement made of titanium or titanium alloy. Implants are replacement tooth roots surgically placed into the jawbone to support a single crown or many crowns in the form of a bridge. The implant itself is either a screw or a cylindrical post that substitutes the tooth's natural root. This is called osseointegration, when an implant is placed surgically into the jawbone and allowed to fuse with the bone over time.


Subperiosteal Implants

Subperiosteal implants are placed on top of the jawbone but beneath the gums. They are used in patients with shallow jawbones and are not candidates for endosteal implants. A metal framework is placed on the jawbone, and the gums can heal around the framework. Once the gums have healed, the framework is used as the foundation for the replacement teeth.


Zygomatic Implants

Zygomatic implants are longer than traditional dental implants and are placed in the cheekbone instead of the jawbone. They are used for patients who do not have enough bone in their upper jaw to support traditional implants. Zygomatic implants are longer and are anchored in the denser cheekbone rather than the softer jawbone. This makes them an excellent option for patients who have experienced significant bone loss in the upper jaw.


Mini Implants

Mini implants are smaller than traditional dental implants and are used to anchor dentures or bridges. They are made of titanium and have a ball-shaped head that protrudes from the gum line. The denture or bridge has a socket that fits onto the ball-shaped head, providing a secure anchor for the replacement teeth.


Choosing the Right Type of Dental Implant

The type of dental implant that is right for you will depend on several factors, including the amount and quality of available bone, the number of missing teeth, and your overall oral health. Your dentist will evaluate your individual needs and work with you to determine which type of dental implant is best for you. Factors such as cost, recovery time, and aesthetic concerns may also be considered when selecting the appropriate type of dental implant. Ultimately, the goal is to provide you with a long-lasting and reliable solution for restoring missing teeth and improving oral health.


Schedule a Consultation with Us Today

To schedule an appointment at Capital Dental Center for your dental implants, please call us at 202-978-8778 today.