Digital Radiography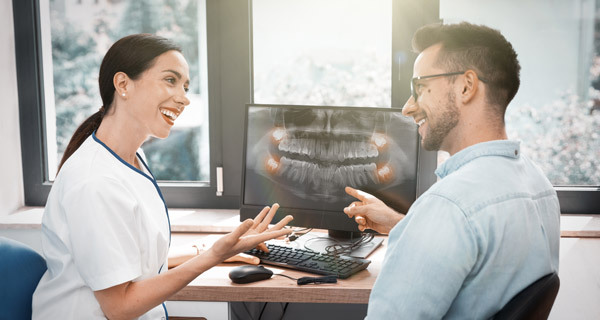 Digital radiography has changed the world of dental x-rays. With just a few clicks, our professionals can get clear pictures of your teeth done and loaded to their computer without all the wait. This makes it easier to check on your oral health and get you on your way. When you need x-rays done on your teeth, but want to avoid the hassle, contact us at Capital Dental Center to schedule your appointment.


What Is Digital Radiography?

Digital radiography is a form of radiography that can be used during your dental exam. It relies on x-ray sensitive plates to capture data during the examination. This data is transferred over to a computer system, without needing to use an intermediate cassette. This helps speed up the process and allows our professionals a way to look directly into your mouth without waiting for the results like traditional x-rays do.

In the past, our dentists had to take the x-ray of your teeth and wait for the images to print on a special film. We could then take a look at the teeth and get a better idea of what was going on in your mouth. If the image was poorly done, or an angle was missed, our dentist would need to go back through and repeat the process. This could easily take a long time.

With digital radiography, this process is shortened. The images no longer need to get printed out. They are sent to a computer that can read the results and show them to our team in a matter of seconds. Getting extra images of the mouth can be done faster, allowing our dentists to make informed decisions about your treatment faster than ever before.


The Benefits of Digital Radiography

Our team has found that digital radiography is one of the best ways to get a clear and concise picture of what is going on with the oral health of our patients. While a routine dental exam and teeth cleaning is a good place for us to start, these x-rays can help our team look into the corners and other hard areas of the mouth and see whether there are any problems or not.

Compared to traditional x-rays, digital radiography is much faster. Our team has found that the quickness of receiving results allows us to catch problems right away, without delay or missing problems because the film did not print out right. All results are sent instantly to our computers, allowing one of our professionals to look them over and come up with a diagnosis in just minutes.

This takes some of the hassles out of getting x-rays. Digital radiography is easier to use, provides clearer pictures, and takes a fraction of the time. Our patients get the peace of mind of hearing about the results in a few minutes and knowing that they have healthy and clean teeth when they leave our office.

Getting dental x-rays may have been a hassle in the past, but with digital radiography, they are easier than ever to get done. Our dentists can schedule your digital radiography x-ray today to check out your teeth and get them in good health. Call or text Capital Dental Center at 202-978-8778 today to schedule your exam.