Dental Exams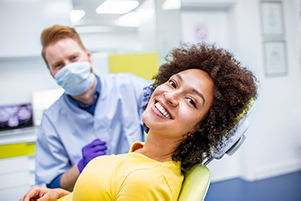 Regular dental exams are one of the best ways to maintain the health of your teeth and gums. Many times, potential oral health problems can go unnoticed for a long time, festering and getting worse before you even notice. A regular dental exam in our office can spot these dental conditions early, and our team can get them fixed and feeling better while the issue is still small. When you are ready to set up your routine dental exam, then Capital Dental Center is here to help get you scheduled today!


What Is a Dental Exam?

A dental exam is a checkup for your mouth. When you visit our office, we will take some time to examine your mouth, teeth, and gums. This helps us get a better feel for your dental hygiene. This exam can also help us determine if you have any oral health problems and we can discuss treatments to help deal with cavities, recommend x-rays, and provide other preventative methods to keep your smile healthy.

During the dental exam, our professionals will start out with a thorough tooth cleaning. This helps them to remove any plaque in hard to reach areas and look for any other dental health problems. Our professionals can then determine what other steps to take. Depending on how the exam goes, we may recommend x-rays, a deep cleaning, or another dental procedure.


How Often Should I Complete a Dental Exam?

While each patient is different, we generally recommend our patients receive a comprehensive dental exam in our office once every six months. If our dentists notice a problem or concern, we may ask you to come back sooner to check on the issue and get it taken care of.

Patients who take good care of their oral health, with regular brushing and flossing, will be fine visiting our office every six months. During these visits, our team will clean your teeth, check for common oral health conditions, and we may recommend other treatments based on your teeth and mouth.


The Benefits of Scheduling Your Dental Exam

There are many benefits to scheduling and keeping your routine dental exams with our office. These dental exams help a dentist to spot potential oral health conditions early on. Without your dental exam, these issues can multiply. By the time someone in our office sees you, the condition will likely be worse, and more complex to resolve.

A regular dental exam can help spot potential issues early. Many times our dentists can spot and fix the oral issue right in the office, or they can schedule an appointment that works better for your schedule. This helps to maintain the healthy smile you want while keeping your teeth and gums feeling amazing.

These dental exams in our office will help keep your teeth clean. Our professionals can provide a deeper cleaning than most patients can do at home, getting those back teeth and other hard to reach places. We may also provide a fluoride treatment to leave the teeth feeling shiny.

Scheduling your dental exams twice a year can help keep your teeth and gums healthy. Our professionals can catch potential issues quickly while maintaining that perfect smile. When you are ready to schedule your dental exam, call or text Capital Dental Center at 202-978-8778 today.