All-on-4 Treatment Concept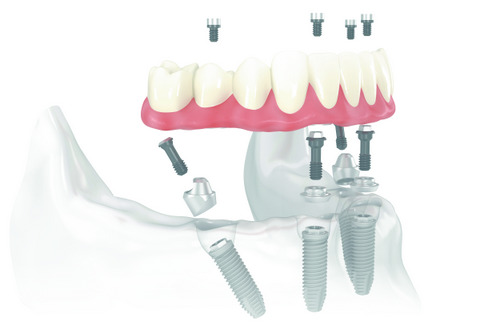 The All-on-4 treatment is a form of dental implants that place all of the teeth for the upper or lower jaw on four posts. This can be an ideal form of treatment for anyone who has lost all or most of their teeth. All-on-4 implants are a more modern solution than dentures, although they are not necessarily right for everyone. Here at Capital Dental Center, we have provided All-on-4 treatment to many patients, and we can work with you to determine if it is the right method of replacing your teeth.


What Is the All-on-4 Treatment Concept?

The concept for this type of dental implant is that it replaces all of the teeth on the top or bottom of your mouth with a single set of replacements. This set of replacement teeth is held in place by four posts placed in the jaw. By doing it this way, you do not need to have individual posts placed for every tooth. Minimizing the number of posts you need reduces the recovery time, the amount of incisions needed, and the cost.

One of the key factors in this concept is titanium. This metal is commonly used for implant posts for a number of reasons. First, titanium is capable of what is known as osseointegration. This means that once placed in the jaw, the metal and the bone actually fuse together. The post becomes a part of your body, which strengthens the jaw and prevents the post from coming loose. Titanium is also very durable and is biocompatible, so the risk of implant failure is very low.


Why Get All-on-4 Implants?

All-on-4 dental implants do have a number of benefits beyond the faster healing time and decreased cost. By placing one connected set of replacement teeth on four posts, you get a more durable set of teeth than you would if you placed single crowns on single posts. These implants are very strong and cannot easily be damaged by foods, freeing you from any restrictions you may have had while wearing dentures. They will also restore your smile, giving you a boost of self-confidence. Implants, especially All-on-4 implants, are very easy to take care of, too.


What Is the All-on-4 Process?

Having All-on-4 dental implants placed is fairly straightforward if you are a good candidate. We will need to do x-rays and do an exam to determine if you are in good health and if your jawbone is strong enough to support the implants. If it is not, we will first do bone graft surgery to build up the bone.

Once the bone graft has healed, or if one is not necessary, we will first extract your remaining teeth. Once you have healed from this, we will place the posts. Once placed, you will need to fully recover and give the posts time to fuse with the jaw. This can take several months, and we may have you come in regularly to check the progression. Once the posts have fused, we can install the set of replacement teeth.

Implants are a good fit for many people, but we will need to do an exam to make certain they are right for you. If you would like to schedule such an exam, please call or text Capital Dental Center at 202-978-8778.